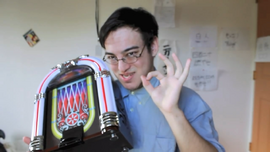 Caveman Music
is self explanatory. It's basically just a rumbling of screams done by monkeys and cameven, most likely australopitecus. As
Frank
claimed that he hated his generation, by uploading a video titled "BORN IN THE WRONG GENERATION", he claimed that 12-year olds have to complain about which type of music is good and which is not. As a result, he came out with a jukebox from the '70s, playing some "caveman music". He then claims that this is the best music of its type at the time.
Ad blocker interference detected!
Wikia is a free-to-use site that makes money from advertising. We have a modified experience for viewers using ad blockers

Wikia is not accessible if you've made further modifications. Remove the custom ad blocker rule(s) and the page will load as expected.