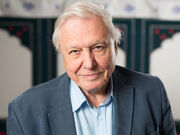 "My name is David Attenborough, and today I'm going to take you on a Journey" - David in Evil Narrator
David Attenborough is a villainous narrator guest character based on the real BBC Wildlife Narrator with the same name. He is extremely powerful, able to bend any mortal to his will. As part of the Narrator species, he is shapeless, invisible, and immortal. However, Attenborough states that all Narrators are dead on the inside, so it is assumed that Narrators are the spirits of dead humans. Attenborough was resurrected as a Narrator by Chin-Chin, but it is unknown what Attenborough's relation to Chin is. He appeared in Filthy Frank's video, "Evil Narrator," when he caused havoc upon Frank and other characters.
About
David first appeared in "EVIL NARRATOR" where he suddenly started to narrate Frank's (and his crew's) life. Frank was startled to find out that David was invisible and could control everything. To counter him, he turned himself into a narrator and fight's him until he grabs his dick for an accident and they enter a 4000CH long sexual relationship. Then David tells Frank he wants to end his life because he has Cancer (although he tried too excuse himself with a story about bullying and small pen15).
Later, we find out that he still lives, as he narrated the outro of the epic "CHIN CHIN SACRIFICE" saga. David also lends his voice during the "Worst Animal Rights Activist" episode, explaining the societal theories of existence of human life and the universe. His current whereabouts and doings are unknown.
Trivia
David Attenborough is an actual narrator for National Geographic
David Hates Morgan Freeman's narrating.
David listens to Akon, a rap artist.
The song that plays at 2:02 is Pendulum - Blood Sugar
David Attenborough seems to hate Morgan Freeman.
Ad blocker interference detected!
Wikia is a free-to-use site that makes money from advertising. We have a modified experience for viewers using ad blockers

Wikia is not accessible if you've made further modifications. Remove the custom ad blocker rule(s) and the page will load as expected.