"
My life is pretty much going nowhere so I do this.
"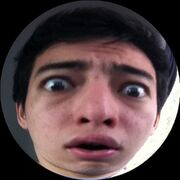 DizastaMusic
was the original
Filthy Frank
YouTube Channel, with
TVFilthyFrank
as the secondary channel for extra videos.
As of August 15th, 2014, the DizastaMusic channel is retired, with TVFilthyFrank now the main channel, and TooDamnFilthy serving as the new secondary channel.
Episode Guide
Lil Jon falls of a table (Jun 19, 2008)
50 cent Many Men Parody (Jun 28, 2008)
UFO Michael Jackson Mystery!!! (Jul 23, 2008)
TEMPURA BOYZ SEASON 1 TEASER!! (read description) (Jul 28, 2008)
TEMPURA BOYZ Episode 1 (continued from the teaser) (Aug 1, 2008)
TEMPURA BOYZ bloopers (Be sure to watch episode 1) (Aug 6, 2008)
How to backflip into a face plant (Oct 30, 2008)
Man gets killed by doctor (Jan 3, 2009)
Funny phone call to Sesame Street (Jan 7, 2009)
A message to Youtube and subscribers: Project Your Pick (Read Description) (2009)
Retarded Ray- The Bathroom (2009)
Retarded Ray- The pay phone (2009)
Never knock on a gangsters door (2009)
Retarded Ray - Ultimate Traffic Light (2009)
Battle for the phone (Feb 13, 2009)
Tragedy of the homeless crap (Feb 14, 2009)
Stupid ghetto ghost (Feb 19, 2009)
Don't feed the homeless kid (Feb 21, 2009)
I like weiner (Feb 24, 2009)
It was all a dream (Feb 28, 2009)
A Redneck Nightmare (Mar 3, 2009)
Miracles happen (Mar 14, 2009)
RELATIONSHIP ISSUES (Mar 30, 2009)
DizastaMusic's Random Ass Special! (Apr 1, 2009)
Door Knob (May 16, 2009)
Ad blocker interference detected!
Wikia is a free-to-use site that makes money from advertising. We have a modified experience for viewers using ad blockers

Wikia is not accessible if you've made further modifications. Remove the custom ad blocker rule(s) and the page will load as expected.