Dr. Trill
Biographical info
Full name
Doctor Trill Miller
Species
Lycra
Gender
Male
Relative(s)
Filthy Frank (possible father)
Political info
Affiliation
Anti-Frank
Nationality
Gucciland
Rank
Filthy Frank's son
Miscellaneous info
First Appearance
NOISE COMPLAINTS
Role
Interventor, Frank's son
Actor/Actress
George "Joji" Miller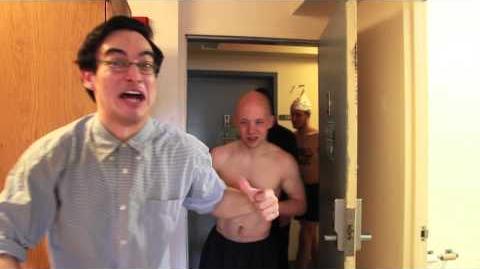 Dr. Trill
is a Lycra entity of unknown origin. Not much is known of Dr. Trill other than he believes that he is related to Frank, this is evident when he shouts, "I never loved you, Dad!" at Frank. He appears in the
'NOISE COMPLAINTS'
episode of the Filthy Frank show. He goes on to reveal to Frank that he is both weird and too loud during their intervention. Frank doesn't respond politely to this news and the other
entities/beings
of the house order him out.
Appearance
Dr. Trill is clad in a white Lycra suit, much like Lemon, but unlike him, Dr Trill is hooded like Chin-Chin or Mr. Magic Man and sports a pair of Gucci shades (which are said to cover his missing eyes)
Behavior
Dr. Trill is capable of perfect English, unlike Pink Guy. He seems calm and collected during the intervention in Frank's bathroom, but breaks down as he proclaims Frank as his father.

He seems to vomit a red liquid (possibly blood or marinara sauce) when frightened.
Quotes
"I NEVER LOVED YOU, DAD!"
Galery
Ad blocker interference detected!
Wikia is a free-to-use site that makes money from advertising. We have a modified experience for viewers using ad blockers

Wikia is not accessible if you've made further modifications. Remove the custom ad blocker rule(s) and the page will load as expected.