"
Are you fucking kidding me?
"
- - Fake Frank
FILTHY FRANK VS ANIMAL RIGHTS was released on June 18, 2016. The video follows Fake Frank as he battles to become the best mouse trainer in history, and beat the Snake Lord, reigning champion of the sport. Interspliced in the arena footage is video of Fake Frank showing the battle to a representative of an animal rights organization, in an effort to determine if the film is approved to be shown.
Upon learning that the footage is inappropriate and insensitive to animals, the video cuts to a new Pink Guy song, Furr, with a promo for the new Pink Guy album, Pink Season.
Rules and guidelines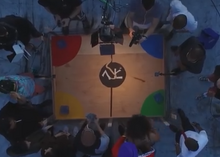 The game itself is played in an arena roughly 3.5'x5' at floor level, preferably on a roof. The arena is laid out with each corner a different color; blue, red, yellow, and green. These are the starting corners for the mice. The snakes starts in the center, of which there can be up to two. The snake starting position is indicated by a black circle with "ヘビ" (Hebi, Japanese for snake) written in it, as snakes can only read katakana.
Ad blocker interference detected!
Wikia is a free-to-use site that makes money from advertising. We have a modified experience for viewers using ad blockers

Wikia is not accessible if you've made further modifications. Remove the custom ad blocker rule(s) and the page will load as expected.