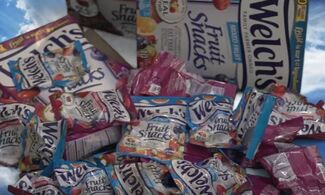 Fruit Snacks are a type of food commonly eaten by Dade. They are also very deadly weapons, killing Evil Dade in one shot.
History
When Frank goes to the Afterlife to bring Dade back to Earth to help in the effort against Evil Dade, Dade initially refuses as he doesn't want to lose his Fruit Snacks. Frank and Dade fight, ending with Dade regurgitating Fruit Snacks into Frank's mouth. Frank decides not to try and take Dade anymore and leaves. After a while, Dade comes to the realisation that helping Frank will result in him receiving more Fruit Snacks, so leaves the Afterlife to assist him. When Dade returns, he tosses a single Fruit Snack at Evil Dade, instantly killing him. Afterwards, Dade accidentally trips on the floor and lands on a lone Fruit Snack, accidentally killing himself.
Abilities
Fruit Snacks are incredibly powerful, eliminating Evil Dade, an immensely powerful being, with just one packet.
Ad blocker interference detected!
Wikia is a free-to-use site that makes money from advertising. We have a modified experience for viewers using ad blockers

Wikia is not accessible if you've made further modifications. Remove the custom ad blocker rule(s) and the page will load as expected.