"
I ain't touchin' no black pussy.
"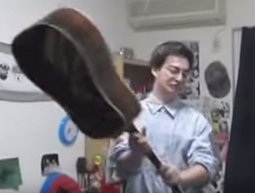 Giant Cockroach is a giant cockroach that appears in Frank's apartment in the video Giant Cockroach.
Appearance and History
Frank describes Giant Cockroach as being a dick-sized, black, interracial, octopus-looking, Doctor Hamstring black afro looking, Yogi Bear looking insect.
Giant Cockroach appears one day in the middle of Frank's kitchen floor, and came by to ruin Frank's free time. Frank tries several different methods to kill Giant Cockroach, but he learns quickly that this Ursula-black motherfucking puss is immortal and can't die.