"Heavy Mandarin" is a subtitle used to distinguish the dialogue stated by Chinese / Taiwanese people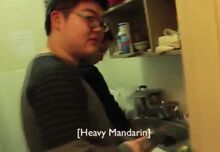 throughout Filthy Franks adventures. The text "Heavy Mandarin" appears at the bottom of the screen in many of the videos when Mandarin is spoken, and it has become a humorous addition to the videos.
It is used in the episode WORST FILM EVER (CHRISTMAS SPECIAL) when Frank travels to Realm iii (a realm rich with Mandarin speakers) to help Dade, and Frank passes a room with two Mandarin speaking men cooking.
It also appears at the end of the video PINK GUY COOKS STIR FRY AND RAPS, when someone is speaking in the background.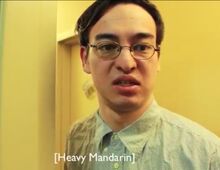 Ad blocker interference detected!
Wikia is a free-to-use site that makes money from advertising. We have a modified experience for viewers using ad blockers

Wikia is not accessible if you've made further modifications. Remove the custom ad blocker rule(s) and the page will load as expected.