"No, I'm not gay. I just like feminine dicks." - Zuckerbot9000

Synopsis
I HATE FACEBOOK is a video that was uploaded to TVFilthyFrank on Oct 6, 2016. The video consists of Fake Frank ranting about his hatred of the website facebook. His points include stolen memes, click-bait facebook articles, how-to cooking videos, and just buzzfeed in general. Shortly after the rant, Frank realizes that Facebook is trying to take over the world by making everybody stupid with click-bait articles, and finds that Zuckerbot9000 was sent back several thousand chromosomes to hunt him down. Frank escapes to his roof, and Zuckerbot9000 is confronted by Macbook 2. Macbook 2 tries to divert Zuckerbot off of Frank's trail, but Zuckerbot sees through Macbook's lies and proceeds to assault, and eventually kill, Macbook 2. Finally, Zuckerbot9000 confronts Frank on the roof, and reveals his master plan to take over The Omniverse. The two exchange blows and ultimately Frank is able to defeat Zuckerbot9000 due to Fake Frank's superior chromosome count.
Appearances
Video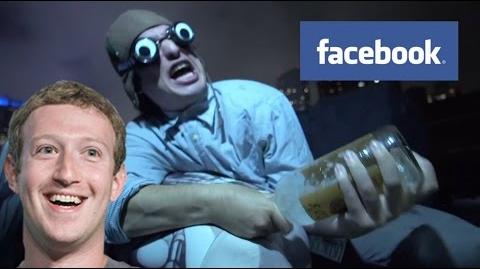 Description:
THE SECRET TO MARK ZUCKERBERG AND HIS SUCCESS IS FINALLY OUT...NUMBER 7 WILL SURPRISE YOU.
Ad blocker interference detected!
Wikia is a free-to-use site that makes money from advertising. We have a modified experience for viewers using ad blockers

Wikia is not accessible if you've made further modifications. Remove the custom ad blocker rule(s) and the page will load as expected.