Loser Reads Hater Comments 4 is the 4th installment of the "Loser Reads Hater Comments" series.
Synopsis
The video starts off in Realm 305 with Impostor Frank playing an indiscernible game with his hood friends while drinking when what appears to be the Gatekeeper shows up to tell Impostor Frank that he has to make videos. When attempting to leave, his friends stop and threaten him with a knife. In retaliation, the Gatekeeper gives Impostor Frank a shotgun. He then uses the shotgun to fend off the inhabitants of the Realm 305 and take one of their "Timbs".
Afterwards, Impostor Frank goes through comments from his fans and haters, including a polite comment from Andrew, someone sewing him something, baking a vegetable mother in the sun, and the legendary Izumi ''Blue Haired Otaku'' Konata threatening people about calling him a weeaboo.
Characters
Video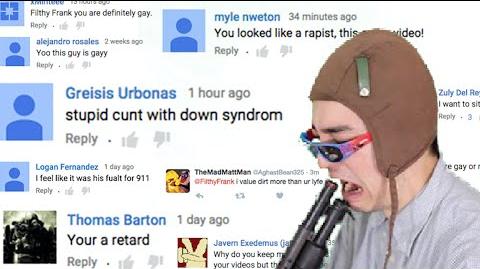 Ad blocker interference detected!
Wikia is a free-to-use site that makes money from advertising. We have a modified experience for viewers using ad blockers

Wikia is not accessible if you've made further modifications. Remove the custom ad blocker rule(s) and the page will load as expected.