MR PINK AND FRIENDS, published on February 29, 2012, is the sixth episode of season three and the thirty-fourth video on the DizastaMusic Channel. 
Synopsis
Pink Guy and Red Dick wander around and enjoy themselves. They do some dancing, Lycra People exercises, mess around and rape people.
Video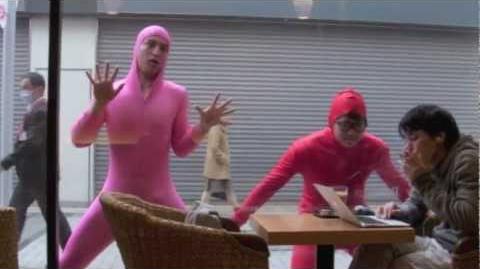 Video Description
Mr. Pink and friends terrorize the public. Subscribe for weekly videos!
Facebook: https://www.facebook.com/TheFilthyFrank/
Appearances
Music
Trivia
For Unknown reasons Pink Guy is named "MR PINK" in the video title
Although the title is "MR PINK AND FRIENDS" there is only one friend: Red Dick.
Ad blocker interference detected!
Wikia is a free-to-use site that makes money from advertising. We have a modified experience for viewers using ad blockers

Wikia is not accessible if you've made further modifications. Remove the custom ad blocker rule(s) and the page will load as expected.