"I love to nut brotha."
Synopsis
PIMP MY WHEELCHAIR is a video uploaded to the TVFilthyFrank channel on Oct. 26, 2016. The video consists of Fake Frank building a custom pimped out wheel chair for Wheelz, a disabled black man with Cerebral Palsy. Wheelz's ultimate dream is to get all the sweet pussy he can, but he cannot accomplish his goal without sick rims and whips. Frank and Wheelz meet to discuss Wheelz's main concerns with his current chair, including slow speeds, no rims, and lack of accommodations. While Frank begins work on Wheelz's new ride, Wheelz goes back to the Ratchet Realm and meets with Yung Upgrade and his crew, who proceed to roast his wheel game.
After this, Wheelz meets Frank at a warehouse where Frank unveils Wheelz's new whips. After some safety concerns, Wheelz is shown to love his new ride, and takes it for a test run. Wheelz returns to the Ratchet Realm, where he proves he has sick rims. When Yung Upgrade and company try to make amends with Wheelz, he runs up on their gang because "a real nigga never forgets".
Appearances
Video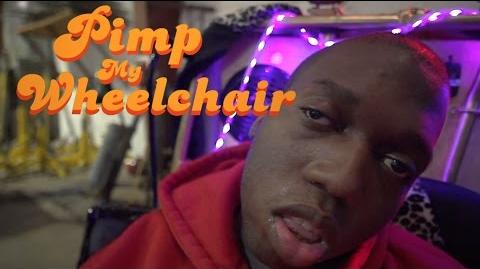 Description:
A touching story about a man with cerebral palsy who finally gets some good chach.