PINK GUY 2013 (ピンク人)
, published on April 4, 2012, is the ninth episode of season three and the thirty-seventh video on the 
DizastaMusic
 Channel.
Synopsis
The video begins with Pink Guy in Japan doing a workout. As the video goes on he loses control of his body and has a seizure.
Video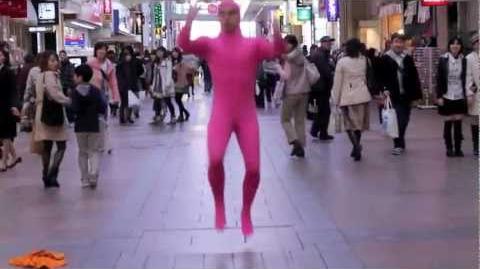 Video Description
The pink guy takes it to the streets. ピンクのやつが現れる。Subscribe for more bullshit.
Taken at 三宮センター街。Messing with the Japanese public.
Facebook: https://www.facebook.com/TheFilthyFrank/
Twitter:https://twitter.com/#!/FilthyFrank
Appearances
Trivia
In the video description Pink Guy is referred to as "the pink guy" using the definite article.
It is called "PINK GUY 2013 (ピンク人)" despite being uploaded in 2012.
Ad blocker interference detected!
Wikia is a free-to-use site that makes money from advertising. We have a modified experience for viewers using ad blockers

Wikia is not accessible if you've made further modifications. Remove the custom ad blocker rule(s) and the page will load as expected.