"
Where all the black ass shit goes down.
"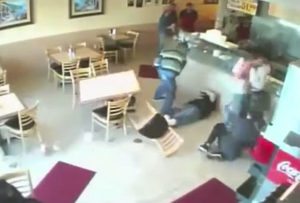 The Ratchet Realm is rarely seen in any Filthy Frank videos, but when introduced, it leaves a significant impact on the viewer. It displays the corruption of a "ratchet" individual to the surrounding people of the environment.
It is a verb only if used to mean moving something up or down in a ratchet fashion. That is, unless you check the Urban Dictionary online, which defines "ratchet" as "a diva, mostly from urban cities and ghettos, that has reason to believe she is every man's eye candy."
Ratchet is used differently than its true meaning (displayed above), but does include the urban or ghetto setting. It displays the immature, and somewhat monkey-ish behavior. This includes fighting, yelling, and downright chaos. In this particular photo, some ratchet individuals take part in a brawl inside of an undisclosed restaurant, resulting in the critical injuries of several individuals.
Apparently, Wheelz visited this realm to fight Yung Upgrade after serious cases of bullying.
It is believed that this is where most Kokujins in the Filthy Frank Omniverse including Wheelz along with Wheelz's hoe come from.
Ad blocker interference detected!
Wikia is a free-to-use site that makes money from advertising. We have a modified experience for viewers using ad blockers

Wikia is not accessible if you've made further modifications. Remove the custom ad blocker rule(s) and the page will load as expected.