Stuart Little
is
Filthy Frank
's favourite movie which he used to watch when he came
home
from school, but one day Stuart Little was ruined forever. The movie was eternally stuck in Spanish with Chinese subtitles which made the movie complete
gibberish
for poor Frank who then proceeded to rant about it.
Death
One day, while Frank was homeless and deranged due to his conspiracy theory on Eeyore and the Hundred Acre Woods, he found the carcass of a mouse lying on the sidewalk. Frank assumed the mouse was Stuart, and proceeded to scream his name and call, "Medic!" whilst trying to give him CPR.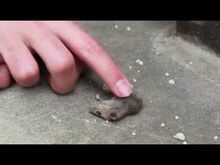 It is unknown if Stuart Little is related to
Kamikaze Failure Frank
's
Genetically Modified Crawfish
.
Ad blocker interference detected!
Wikia is a free-to-use site that makes money from advertising. We have a modified experience for viewers using ad blockers

Wikia is not accessible if you've made further modifications. Remove the custom ad blocker rule(s) and the page will load as expected.