Stuart Little
is
Filthy Frank
's favourite movie which he used to watch when he came
home
from school, but one day Stuart Little was ruined forever. The movie was eternally stuck in Spanish with Chinese subtitles which made the movie complete
gibberish
for poor Frank who then proceeded to rant about it.
One day, while Frank was homeless and deranged due to his conspiracy theory on Eeyore and the Hundred Acre Woods, he found the carcass of a mouse lying on the sidewalk. Frank assumed the mouse was Stuart, and proceeded to scream his name and call, "Medic!" whilst trying to give him CPR.
In some day in the middle of Winter, some time in March, Fake Frank went by the New York Subway to pick up some dead rats so he could make a lunch for The Shaman. When he came back into his apartment, he boiled some chicken broth and dropped a rat in the soup packaging, while even mentioning the name "Stuart Little". It seems out of topic, as Stuart Little is a mouse, and, thus, not a rat. It seems like Fake Frank wants to actually feed Stuart Little's dead body to someone, due to his strong hatred among animals.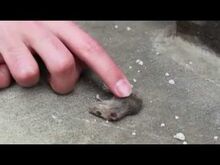 It is unknown if Stuart Little is related to
Kamikaze Failure Frank
's
Genetically Modified Crawfish
.