Towel Guy
Biographical info
Full name
Towel Guy
Species
Lycra
Gender
Male
Residence
Frank's Room
Political info
Affiliation
Filthy Frank
Nationality
Unknown
Miscellaneous info
Role
FILTHY COMPILATION EPISODE 2
Actor/Actress
George "Joji" Miller
Towel Guy
is a
Lycra
that can be seen for a short moment in
FILTHY COMPILATION EPISODE #2
Appearance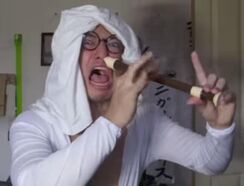 Towel Guy wears a white Lycra skin, along with a white towel over his head and glasses which are the same as Safari Man's.
Skill
Towel Guy is evidently able to play the nose and possibly assflute, although not as fluently as Salamander Man .
Ad blocker interference detected!
Wikia is a free-to-use site that makes money from advertising. We have a modified experience for viewers using ad blockers

Wikia is not accessible if you've made further modifications. Remove the custom ad blocker rule(s) and the page will load as expected.